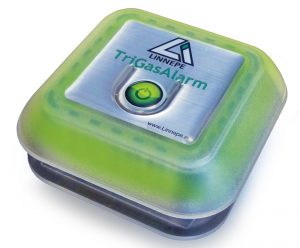 With the solutions from Linnepe you play it safe – not only on the road, but also on the pitch. In the small, well-insulated interiors of mobile homes, escaping gases can quickly become dangerous. Linnepe was one of the first companies to develop and launch gas detectors for campers and caravans.
With the TriGas Alarm, Linnepe has concentrated its expertise in gas detectors in one device. The compact gas detector scores with its use in the motorhome with reliability, functionality, performance and design. You get a high-tech in a beautiful and easy-to-use form. The connection of the Tri Gas Alarms is quick and easy. The gas detector is connected directly to the 12-volt electrical system in the motorhome. A simple press turns the device on and off. After a calibration time of three minutes, the gas detector is ready to protect your motorhome. The siren of the Tri-Gas Alarm is loud enough with 80 dB to wake the occupants of the mobile home from sleep. Even for outsiders, it is clearly heard. When a critical gas concentration is reached, a pre-alarm sounds first, then the main alarm is triggered. The gas detector contains a highly sensitive sensor . On request, a second additional transmitter can be installed. This is mounted higher up, in contrast to the main unit, in order to protect you against both rising and falling gases.
In 1999, we introduced our first anaesthesia gas detector Sopo Alarm – an absolute novelty back then. Today, many years after it launched, our systems have convinced numerous campers. Our customers also rightly rely on the latest model, the TriGas Alarm: In the area of gas warning systems, the Linnepe solutions are among the safest and most reliable systems.